How many times have you went into Files to open a document, click it and forget that it is going to open in the Teams window?  This is extremely frustrating as there is no current way to change the default.  Currently there are only 2 ways to open Office Documents in Teams with the client side application.
Option #1
Hover over the document name, the click on the 3 dots.
Then click Open –> Open in App

Option #2
After you click on the document link and open the file in Teams, you can click the "Open in Desktop App" button

The challenge is the number of clicks that are needed to get to each and every document.  However, there is a work around that that can save some time if your team is using a lot of Office documents in their day to day activities.
Workaround
This work around requires a tab slot in Teams and currently there is no way to hide the "Files" tab.  So before introducing this workaround, make sure you are okay with having an extra tab in your channel.  First you will need to make sure that your SharePoint site has the right settings.
Step 1 – Go to the Team you are setting up, go to Files, click on "Open in SharePoint"
Step 2 – Click on "Library Settings" in the top right hand of the page
Step 3 – Go to Advanced Settings in General Settings and click "Open in the Client Application" in the Opening Documents in Browser.

Now we will we will update each team and/or channel.
Step 4 –  Navigate to location you want documents to download to in SharePoint (Generally by clicking on Documents on the left hand menu).  If using channels, make sure to navigate to the right level in your hierarchy
Step 5 – Copy the URL and head back to Teams
Step 6 – Click on the appropriate channel and click the "+" button (this is going to add a tab)
Step 7 – Choose Website, pick a name other than Files (I like Documents) and past the URL in the text box.  Then click Save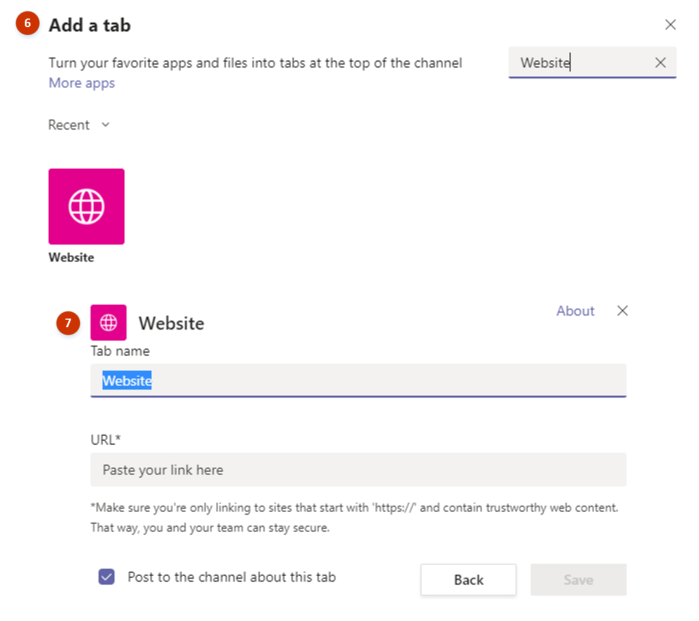 Repeat steps 4 – 7 for each channel in your Team.
Conclusion
The ability to set the default for how Office Documents opens in Teams is a feature in Microsoft's backlog.  Until that feature goes live, this is the best option out there.  If you found this blog helpful, share with others.  If you would like to talk with an Acts Solution Team Member for a free consultation, please complete the contact information below.